Welcome to Class 2!
Teachers~ Mrs Victoria Sheppard and Ms Emma Brock
LSA - Mrs Sara Gooding
Hi Class 2 Team! I hope you all enjoyed the half-term holiday and the lovely weather we are having!
Welcome to all of the Class 2 Community. I hope that you are all keeping well, busy and safe by STAYING ALERT. If any pupils or parents are struggling, please don't hesitate to drop us a message or an email. Maybe a quick phone call from a listening ear could help.
Have a look through our web page to ensure you understand the format for TERM 6, which is more project based for our final term. Also, it will work more easily with some of our class working in school, while the rest continue from home. Try to dip into ClassDojo regularly - we will be using this across the Federation to communicate and share work.
TERM 6 PROJECT: DARWIN'S DISCOVERERS
This term we will continue with our Darwin Unit but are now taking it to a different dimension, where you will become one of Darwin's Discoverers! You have already found out a bit about Darwin and his trip to The Galapagos Islands. Each week, we will be adding a couple of tasks for you to do linked to finding out more about what Darwin discovered and plant life in your local area. This week's task include a closer look into finches and floating and sinking. You might like to find out about the HMS Beagle.
J K Rowling's New Book

J.K. Rowling is releasing a chapter or two of her new book for free each day on this website - https://theickabog.com/ There's also a drawing competition each day to help illustrate the book too. Have a look to see and enjoy!
WEEKLY POETRY CHALLENGE- 01.06.20
Have a look at our new poetry challenge this week - Shel Silverstein! The challenge is to learn one of the poems off by heart and recite it to someone you know over the phone to put a smile on their face! You might even like to record yourself and upload it onto your Dojo profile for all to see! Have fun!
TTS Home Learning Pack!

A FREE downloadable resource to complete at home, which supports KS1 objectives. If you do not have a home printer, please ask your child's teacher to print you a copy.
Twinkl Resources

Take at look at what Twinkl are providing for parents - for free. Don't forget, you do not need to print everything out. These activities are a guideline to demonstrate WHAT needs to be learned, HOW to teach/learn it and most work can be completed in an exercise book.
Oxford Reading Buddy
We have opened up the level above that which your children are reading at, to broaden the scope of their reading over the coming months. If you have any trouble with logins, please contact myself or the school.
Times Tables Rock Stars
If you have any login trouble, please contact school or class teacher.
Keeping Fit and Healthy
Change 4 Life Kids need to be active for 60 minutes a day. From our fun 10 Minute Shake Up games to information about active hobbies and sports, here's everything you need to get your family moving.
Garden Antics!!
Did you know that an average garden accommodates more than 2,000 different species of insect! Very few of these creatures cause significant damage to our prized plants, and there are many more insects that actually help us to control the ones that do! By providing the right habitats, we can greatly increase the number of 'beneficial' insects in the garden.
One way to increase the comfort of your patch for insects is to build them a bug mansion or maybe even something a little smaller, like I have in my garden. Can you spot any homes/micro-habitats in the photo below of my garden? Look at what Elsie has built for her garden too!
So do you fancy having a go at making a bug hotel? Well, have a look below at the instructions and I will note down some good examples of materials you could use to give those little bugs a helping hand!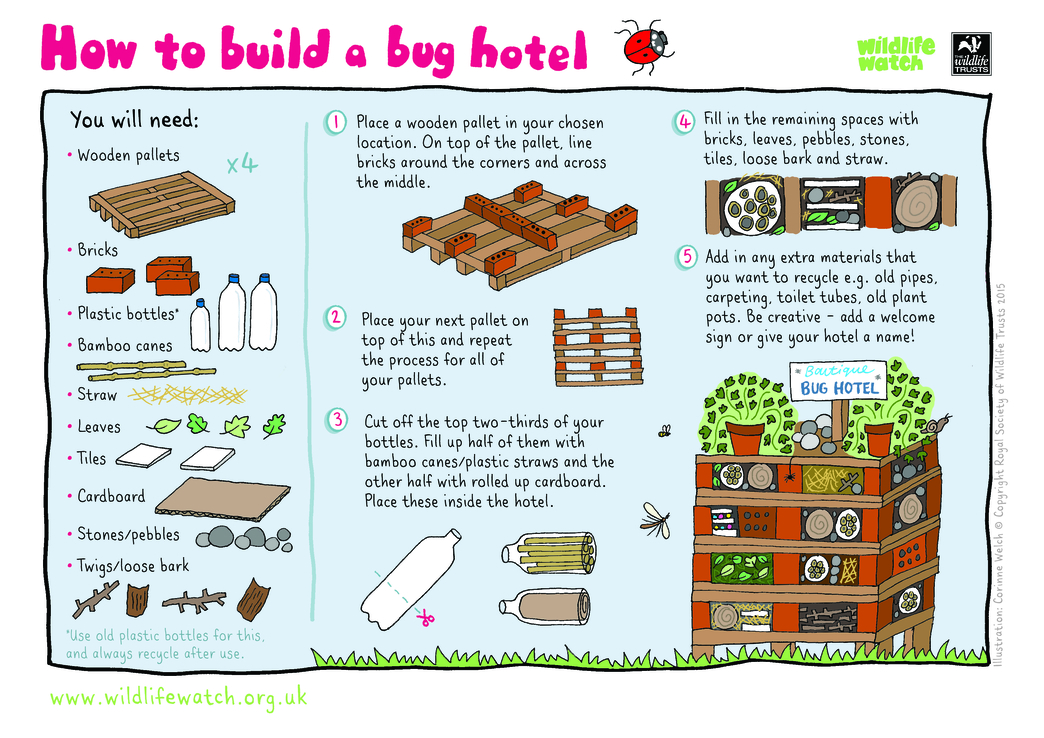 Antarctica........We're Poles Apart!!
Did you know ..........
During the summer months in Antarctica, it stays light for several months! How amazing is that! The coldest place on Earth is a high ridge in Antarctica where temperatures can dip below - 133°F (-93.2°C). You cannot work in Antarctica unless your wisdom teeth and appendix are removed.
Watch this space for our fun Antarctica facts and non-chronological reports about the beautiful Emperor Penguins.
Meanwhile, why not enjoy a wide range of interesting information related to the icy continent found at the southern part of the globe through the following sites:
https://www.activewild.com/antarctica-facts-for-kids/
https://www.kids-world-travel-guide.com/antarctica-facts.html
Home Learning
This week why not find out about the human lifecycle? Can you find pictures at different stages of your life so far - baby, toddler, pre-school age, now? What did you need to help you grow and change? Feel free to being in your findings!
Have a look at this beautiful cobweb found in the garden of one of our pupils. It is huge!
BEACH CLEAN - A BIG THANK YOU!
We would like to thank all those who came along to support the Great British Beach Clean last weekend, run by the Marine Conservation Society. It was very well attended by both pupils, parents and staff at several locations along Sand Bay.
The sun shone and we collected all sorts of interesting things: a completely buried car hub cap, an old fashioned ring pull from a fizzy drinks can and a crisp packet from 1988—over thirty years old!! More importantly, Sand Bay has never looked so pristine! Thanks again and a conduct mark awarded to all those who volunteered to give up their weekend to help take care of our planet!
Welcome back to Class 2! We hope that you had a restful, enjoyable summer break!
Over the next couple of weeks, we will be immersing ourselves into the world of the ocean and how plastic pollution is taking hold through a story about Tuamor the Turtle, written by Jo Earlam. We will be following Tuamor's story of the impact of litter on turtles and other sea creatures. Through a desperate plea to young people, Tuamor introduces some important ways we can all help to save our seas! Using our research on this subject, Class 2 will be having fun with poetry and artwork linked to helping to raise awareness and will be doing what we can to help look after our sea and beaches on a local level.
"Our ocean is vital to life on earth. Not only does it contain some of the world's most amazing creatures, like the blue whale, the largest animal on the planet, but we also get most of our oxygen we breathe from the sea. The problem is we aren't looking after it. Marine litter - rubbish which finds its way into he ocean - is a huge threat to the health of our ocean and the incredible creatures who live there."
Jenny Griffiths, Marine Conservation Society Education Officer
What do you notice about this picture?
We will also be using a story for our artwork called 'The Tale of the Turtle and the Plastic Jellyfish' written by Sarah Nelms and illustrated by Kate Nelms. Have a look at this beautiful illustration and watch this space for ours!!